Quinceanera Limos and

Limo Party Packages – Get the best value in Quinceanera Limo Packages from your local network of top providers in one call Hablamos Espanol!
We have a large network of high demand white quinceanera limos for you to choose from in Elk Grove, Lodi, Stockton, Modesto, and Sacramento.
We also have limo network providers for Quinceanera Limousine & Limo Service in Tracy, Manteca, Ceres, Stockton, Modesto, and Merced for large white SUV limo services.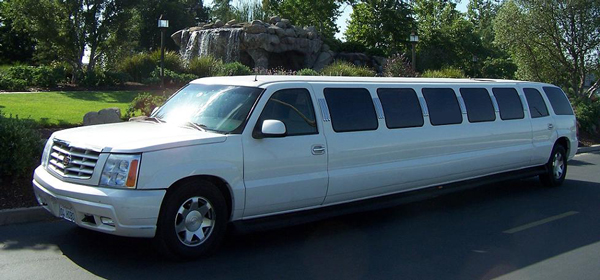 The Planning of Quinceñera begins up to a year before 15 birthday in advance, and please book the suitable limo in advance to make sure to get your affordable Quinceñera limousine before it's too late and they are all booked!
We have all white and tuxedo super stretch SUV limos to satisfy your requirement for the transportation from or to church, pick up damas and chambelanes.
Whether a transfer to and from the church, or a day of luxury and elegance we can help you celebrate your daughter's quinceanera in style and comfort; let us help you treat your beautiful birthday girl like a queen!
Choose from one of our local limo network of high demand stretch or super stretch SUV limousines in black, white, tuxedo, or create a Cinderella Quinceanera in a Cadillac Escalade, Denali, Hummer, Expedition or Lincoln Stretch limousine. Our local network of beautiful white limos comfortably accommodate from 4 up to to 26 guests, and include complimentary sparkling cider and bottled water for your group and the option of pampering your daughter with red carpet services to make sure that everyone knows that it is your daughter's special occasion.
Nothing is as special as this Quinceanera day. For this reason, Land Yacht Limos is committed to making your Quinceanera day special for your family and as lovely as planned.
Central Valley, San Francisco, Bay Area & Modesto Quinceanera Limousines are easy for you to check all your local network options on with just one call to your local limo network!
Land Yacht Limo offers an exquisite selection of options from top local limo providers at discounted company direct prices! We can give you quotes for both classic and exotic Quinceanera limousines. We offer the top selection of popular SUV stretch limos that have GPS navigation systems to help with change in plans or unfamiliar locations. They also provide the extra space & latest technology features that you desire to make this day as memorable as your daughter expects.
Quinceanera Invitation Delivery – What to make a lasting impression after school or any day of the week? Then deliver your Quinceanera Invitations in one of our exotic limousines. This is an awesome and unique way to make sure that your important guests receive your Quinceanera invitation in their hands, and to get an immediate RSVP or estimate from friends and family to start planning for your special day.
Quinceanera Shopping Services – Your limousine will safely transport family, friends and birthday girl to shop for her Quinceanera dress, decorations, reception location and even the Quinceanera cake. Your chauffeur is knowledgeable of the entire Foothills, Central Valley and San Francisco limousine areas, and can guide you to the best locations and vendors to help you plan for your Quinceanera day.
Limousine Services for Quinceanera Day – Land Yacht Limos network providers will safely transport you to and from the church, and then drive you from church to take pictures in whatever area you choose. After your Quinceanera pictures, the limo will transport all guests to your reception (we can provide more than one limousine if needed). Your limo can also shuttle guests from the reception at any time they are ready to leave. Your top rated network chauffeur will safely transport your family home after the Quinceanera.
Miscellaneous Quinceanera Limousine Services
– Bring your beautician to you or take a limousine to the beauty salon
– Shuttle family / guests to and from the airport, hotel or far locations
– Pick up your Quinceanera dress, cake or any last minute items
– VIP and Red Carpet Limousine Service