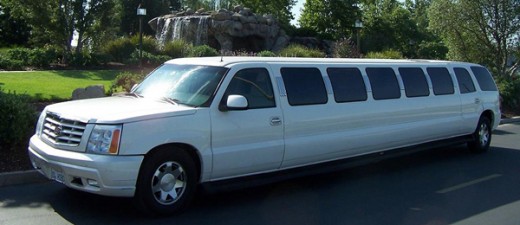 White Wedding Limos are a specialty of Land Yacht Limos due to the fact that we have some of the largest white wedding limousines in Northern California!
Choosing a White Wedding Limo – Why choose a white wedding limo for your special day? Most wedding event coordinators will agree that a white wedding limousine symbolizes the purity and commitment of your special day, much like a white wedding dress does. Wedding and engagement photographers also agree your photographs and video will look great with a white limo choice! White limos are cooler on hot days while idle and are more visible to your guests and other drivers while you travel increasing safety.
Best White Limousine Options – We have the most complete range of white wedding limos in the area including the following vehicle options: White wedding limo options include; the 22 Passenger Cadillac Escalade Super Stretch Limo, the 14 Passenger Lincoln Ultra Stretch Limo, and the 10 Passenger Lincoln Stretch Limo. Always remember that limos hold 2 less passengers in back than the stated total capacity as the front seats are included in the overall limo carrying capacity calculation.
We have "Limo Pilots" not "Limo Drivers" – When we decided to set the "bar for safety" higher than any other limousine company in Northern California as our core mission, the first thing we examined for an area of excellence was passenger safety improvements we could implement design and implement at Land yacht Limos As we studied the limo industry we noticed that one area we could look to dominate was the safety attitude and professionalism of our limo drivers. We noticed that  Ship and Airline Pilots often had fewer passengers than our limos do and the high standards that they were held to and we wondered why this was not the case with limo drivers. This examination of the status quo among limo companies was what  inspired us to implement the "Limo Pilots Program" at Land yacht Limos.
Strategic Limo Port Location – We are headquartered in Lodi CA but we have our limo depot located strategically near the junctions of Hwy. 4 and Hwy. 160 in the East Bay, and Hwy. 12 and Hwy. 160 near Rio Vista. This makes us strategically close to the East Bay, North Bay, San Francisco, Lodi Stockton and Sacramento primary markets. Being close to these cities means you will receive "No Fuel Charges" and "No Distance Surcharges" on your booking which can add as much as 20% to most limo companies rates often only revealed after you have made your booking. We challenge you to find better rates than our standard limo pricing as we consistently lead the pack in great rates and seasonal specials in all of the regions we have mentioned above without compromising on quality or value for your limo booking dollar.
Transparency in Pricing – When it comes to pricing, "Transparency in Pricing" is our motto, and that means you will have no surprises in cost or hidden fees that can disappoint you or put a damper on the joy of your special day when booking with Land Yacht Limos.
Discounts for Standby Time – We understand that you may have a need for your limo to be moving guests from location to location and that in between these "High Limo Use Times" there can be standby time where the your limo can't be re-rented but it is just waiting or "Standing by". For these standby times depending on the overall number of hours of rental, we frequently offer discounts on some standby by time in your limo pricing. This way you can have your limo ready when you need it and dedicated to your special day, without paying full price for standby time in between shuttling wedding guests and family and the bridesmaids and groomsmen.
Service and Skill – If you are looking for a great service along with your white wedding limo you couldn't pick make a better choice than Land Yacht Limos as our limo pilots are trained and tested in customer service and courtesy at a very high level. Their goal is to make your day special by providing the highest service level in the industry and get you from location to location smoothly on time and most importantly safely.
Decorations and Proper Presentation – We never charge extra to decorate the interiors of our limousines for your special day including banners, balloons, and attractive center pieces in the limo wet bars areas, or to provide a runner carpet for added elegance and to protect your dress from the ground while entering the limousine. We can also allow outside decorations on the limos that will not leave stains or scratches to the carefully maintained paint jobs on our limos, just ask in advance and we can make time and arrangements for your decorations to be applied prior to the main events of the day or evening.
Beverages and Libations – We offer a standard package for beverages in all of our limo packages at no extra charge that includes spring water, ice, designer napkins, crystal stemware for wine and champagne as well as rocks glasses for beverage serving. On bookings of 6 hours and more we offer welcome libations of your choosing including; wine champagne beer or liquor shots and favorite mixer. We do work exclusively with some of the best wineries in Northern California and we have access to fantastic champagne, sparkling wine and wine brands and can set your package up with all of your favorite brands or some of our select favorites at your request.
Service Excellence Above All – If there is one thing we do best that is our dedication to service beyond the normal limousine company standards. Our "Limo Pilots" have to earn their stripes by getting great customer reviews during follow up interviews with our clients. We do not allow our Limo Pilots to just sit in the limo waiting for you ask for something they will be there waiting on you, opening doors and asking if they can help carry anything, offering to take pictures for cell phone cameras, and checking on ice and champagne levels and re-stocking the wet bar as needed. In between each de-boarding of the limo our Limo Pilots will continually clean and check details like climate control settings, stereo, napkins and glasses replenishment.
If you have decided that a "White Wedding Limo" is right for your special day then please give us a call at Land Yacht Limos to discuss Wedding Bachelor Bachelorette and Engagement Party limo needs to hear about packages, limo vehicle options that can meet with your needs and target budget.
We kindly ask you to remember that at Land Yacht Limos, "Your white wedding awaits!"
Follow Land Yacht Limos's board White Wedding Limos on Pinterest.
White Wedding Limo Pages | We have big and beautiful "White Wedding Limos" in our Sacramento Lodi Stockton and Bay Area network for your upcoming wedding.
Our local limousine network fleet includes many unique and special white wedding limos and tuxedo limos that are very popular including from small to large for your special wedding day!
Call now to get pricing and availability for our Gorgeous White Stretch Limos from your local limo network for Weddings in Sacramento, Fairfield, Vacaville, and Davis and surrounding areas!
We offer an exceptional white wedding service packages from top providers with high demand vehicles with decorations, sparkling wine or juice, and red carpet entrance to make your wedding day the best day ever!
Our wedding limo network prices are some of the best in the area and we have excellent service and a gorgeous network fleet of Escalade, Denali, Excursion, Expedition, Jaguar, and Lincoln wedding limousines.
Great Limo and Party Bus Selection – At Land Yacht Limos we have a large limo network with all kinds of high demand vehicles from top rated limo providers in your local area to serve you such as:
5 passenger Lincoln Town Car L Series
6 passenger Lincoln Limo
8 passenger Lincoln Limo
9 passenger Lincoln Stretch Limo
9 passenger Jaguar Stretch Limo
10 passenger Lincoln Stretch Limo
14 passenger Lincoln Stretch Limo
Pick from this great selection of SUV Stretch Limos to choose from!
14 passenger Hummer Stretch SUV Limo
16 passenger Denali Stretch SUV Limo
16 passenger Cadillac Escalade Stretch SUV Limo
20 passenger Cadillac Escalade Super Stretch SUV Limo
26 passenger Hummer Super Stretch SUV Limo
Most of our network partners limos and party buses have light shows, wet bars, Video and TV, Strong AC, super stereo systems with iPod and bluetooth control and custom interiors!
 Call Land yacht Limos toll free at 844-Fun-2-Ryd for a fast-and-free Limo Price Quote and discuss your options for having one of the finest white wedding limos for your wedding or elegant event!
Follow Land Yacht Limos's board White Wedding Ideas on Pinterest.
White Wedding Ideas Pages, Welcome!
White Wedding Ideas is a blog for those looking design a "White Wedding" who want to add some exceptional flourishes and passion to the concept exploiting the white palette in their wedding for all its worth!
Remember that white shows shades of Pearl Silver Gold and even Diamond naturally as the light plays with the shadowing revealing the colors hidden within the color white.
White Wedding Limos are available and you can reach our article on pwhy to pick a white wedding limousine at this link: http://landyachtlimos.com/limoservice/white-wedding-limo
This blog has a sister Pin Board for White Wedding Ideas and I have included the White Wedding Ideas at Pinterest links below so you can browse though them to get more cool White Wedding ideas!
Follow Land Yacht Limos's board White Wedding Ideas on Pinterest.