Lincoln Stretch Limo Rentals – Lincoln Stretch Limousines come in several size models which can accommodate from 6 passengers up to 12 adults in the back.
When calculating the size of Lincoln Stretch Limousine rental you will need remember the maximum capacity is based on average sized adults fitting in comfortably. passengers in the back of the limo.
Size Does Matter – If you have some larger than average guests you may want to count them as two passengers in your Lincoln Stretch Limo size calculation to insure everyone is extra comfortable and has elbow room.
We often recommend even with average sized adults that you not fill the limo to maximum capacity but leave a seat or two open for comforts sake.
This can be a good idea for weddings and formals especially if your group is wearing gowns or formal wear as that can wrinkle your outfit and be a little less luxurious experience.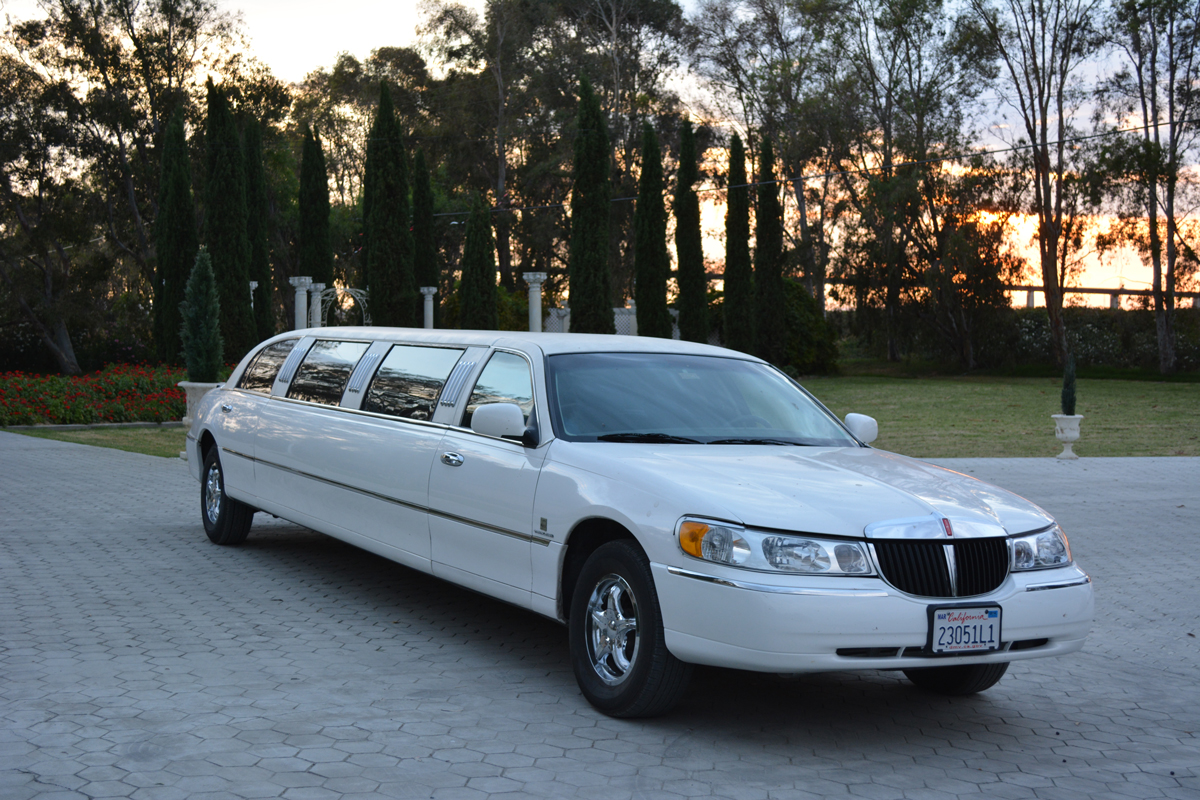 Lincoln stretch limos are generally available in black or white and have rear AC control and a divider on the partition between the driver and the passenger compartment. Most limo companies will not allow front seat riders so it is important to know that the the 10 passenger Lincoln Stretch Limo will likely only accommodate 7 to 8 average sized adults in back
6 passenger Lincoln Stretch Limo

– The 6 passenger Lincoln Stretch Limo is the smallest of the Lincoln Stretch Limos and is common and abundant in the limousine industry. The 6 passenger stretch limo has two bench seats the same size as a town car facing each other if front and back.
10 passenger Lincoln Stretch Limo

– The 10 passenger Lincoln Stretch Limo or 9 passenger stretch is the most common and is workhorse of the limousine industry. The Lincoln stretch limo is also quite roomy and usually the most economical limo type for is size. Some 9 passenger stretch limos have the front passenger seat removed to accommodate extra cargo in front with the driver.
14 passenger Lincoln Stretch Limo

– The 14 passenger Lincoln Stretch limo is the largest in the Lincoln family of stretch limos and can hold up to 12 average sized adults in back. Most of these limos have two wet bars and 2 to 3 video screens ranging from 16 inches to 20 inches each. If you have a group of 12 this may be your most economical option and they are quite roomy and comfortable. Quite a few 14 passenger lincoln limos were designed at "Tuxedo Limos" which means they are black on top and white on bottom which is a favorite for formal events quinceaneras and weddings.
Lincoln Stretch Limo Interiors – The Lincoln Stretch limos usually has one wet bar mood lighting and one or more video screens. Most Lincoln stretch limos have a strong high fidelity sound system that can be overridden with a USB or 3.5 mini jack cable to hear your favorite music on iPhone iPod or Android devices.
Get free quotes for 6, 9, 10, or 14 passenger Lincoln Stretch limos from your local limo network now! Check the best company direct pricing deals from your local area limo operators and check availability all with one call! One call checks them all!
You can also use the Free Limo and Party Bus Price Quote form at this link:

Free Limo and Party Bus Price Quotes
About Land Yacht Limos: Land Yacht Limos is now the Local Limo Network for limo operators to advertise deals and showcase their best packages and vehicles. Land Yacht Limos as an entity does not own or operate limos or vehicles for hire nor does it represent itself as such. All quotes sent to you are subject to approval by the individual operator based on the vehicle you are seeking. All bookings are made directly with the respective limo operator and subject to their terms of service agreement which is provided directly from the respective limo operator. All pricing quoted is company direct best deals pricing given to us from the respective limo operator in real time. Due to the large number of high demand network vehicles available from multiple operators the vehicles shown on this site are for illustration purposes only and may not represent the exact vehicle that is available for your booking. Exact vehicle pictures are always made available prior to confirmation with the respective limo operator upon request.
Land Yacht Limos has taken the complexity out of seeking the best tour, the best vehicle, and the best operator in your local area with "Best Value" Limo and Party Bus All Inclusive Packages.